Rivo is a French, young and talented artist with a strong artistic direction. In 2023, he called us to help him improve his performances around the world.
We aligned on animations and styles, and created a strong visual package filled by many different looks all aligned in the same vibe. We also have done multiple shows with him as VJ to enlight his show.
We are super glad to always be engaged with good vibe artists and hardworker producers such as Rivo, can't wait for what the future will bring!
Visionz provided : Visuals package 
Client: Rivo/Rivo's Management&Label
Animation by : Wtflow, Stef
Softwares : After Effect, RedGiant Suite, Cinema 4D, Octane Render.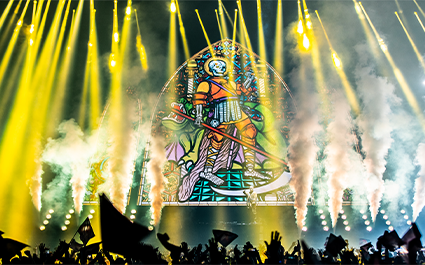 VLADIMIR CAUCHEMAR LIGHT & VIDEO OPERATING Vladimir Cauchemar has been a Beat maker, producer and a DJ for centuries. In 2019 he is reaching us because he wants cool inspired humans touring with him to provide and first of all build a super strong and...