Atarashi, for somes is a party in Europe, happening every two weeks. But, let's be honest it's more than that, it's a world, it's a vibe, it's a concept. Yes, it is, because Atarashi is a way of living. This party made of few half-Italian-half-Parisian crew, is happening every two weeks, every time in awesome venues, and at least once per month in Paris.
Atarashi reached Visionz after few month, because they were looking for Show Direction, they wanted to be unique among other House Parties competitors, and so focused on their shows musically, and artistically. Then so, we provided Show Direction, Light Operating, Video Operating/VJing, Content Creation and Stage Design with Technical Support.
This is how it ended up with this super good visual package, focused on highlighting the logo and the main symbol. The main key was to still get some poetry with a strong touch of good taste, modernity and aesthetic.
Visionz provided : Visuals package
Client : ATARASHI
​Animation by : Wtflow
Softwares : Cinema4D, Octane Render, Xparticles, After Effect, RedGiant Suite,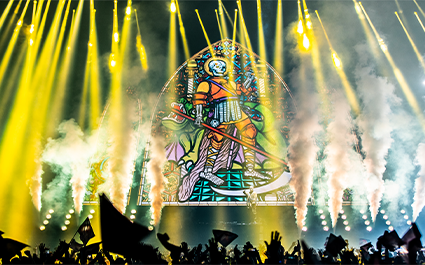 VLADIMIR CAUCHEMAR LIGHT & VIDEO OPERATING Vladimir Cauchemar has been a Beat maker, producer and a DJ for centuries. In 2019 he is reaching us because he wants cool inspired humans touring with him to provide and first of all build a super strong and...